Fashion Freedom February
is almost here! As I outlined in a previous post
here
, starting tomorrow the pants & shorts will be packed away for the month and it's only skirts & dresses for this boy. I suppose it's not really so much an event as it is just a bit of fun. I'm looking forward to having some interesting experiences to post here daily, as well as learning more about my personal style.
I originally wanted to have a video on YouTube to accompany this, but unfortunately I've had a nasty cold for the past week or so, so that just hasn't happened. Once I'm over the cold, however, I will be producing new video content for the
His Black Dress YouTube Channel
promptly, so be sure to stay tuned there!
I thought it might be fun to take some quick photos today of packing up my pants & shorts. While it probably wasn't necessary to do so, I thought it would add a fun twist.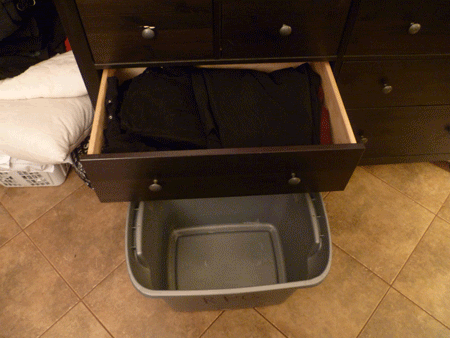 So, tomorrow starts my 29 days of skirts & dresses. What do you have to look forward to?
For starters, I'm going to make a daily post showing my outfit of the day, as well as some details about my day that are relevant to men's fashion freedom. There are a few days where I will be out of town, and I haven't figured out how I am going to work that yet, but I will otherwise make sure to post daily.
As I mentioned in the previous post, I've set some ground rules I'm going to try to abide by for the month. First and foremost, I'm going to try to show unique outfits to the styles I've already posted to my
Flickr photostream
over the year. This means mostly remixes, or trying some different layering or tights / shoe combinations, although some of my looks may wind up carrying over, just because I love them that much. I'll try to keep it interesting, though, for the folks who have been following me on Flickr already. I'm also using this as an opportunity to clear my closet a bit, so anything I just can't figure out how to wear over the month, or anything I wear but just don't like, I'll be getting rid of afterwards.
What do I have to work with in my closet, anyways? At the moment, I have 17 skirts and 11 dresses, so that's 28 unique garments to style my looks around. Although I'm one day short for having no repeats during the month, I'd say that's still a funny coincidence.
Hopefully, this month long event here at
His Black Dress
will provide an interesting look into the life of a boy in a dress. I hope that you will enjoy following my adventures during the month, and I look forward to hearing your thoughts about my experiences.
BONUS -
I've been having some trouble deciding how to start off
Fashion Freedom February
. Help me decide if I should go for a skirt or dress for my February 1st outfit to kick off the event! I know it's a bit last minute, but that just means your vote will count even more! Please take a moment and vote for what you'd like to see this boy rock tomorrow!
First Look: Skirt or Dress?